Pact for Peaceful Witness
The Pact for Peaceful Witness is a vow to one's self and others to adopt nonviolence as the way to create social change. It serves as a handy one-page instruction guide on how to affect nonviolent discipline and maintain a nonviolent presence in tense and potentially violent conflict situations.
We've also included, on the reverse side, a list of religious peace fellowships from many faith traditions, with nonviolence training providers highlighted.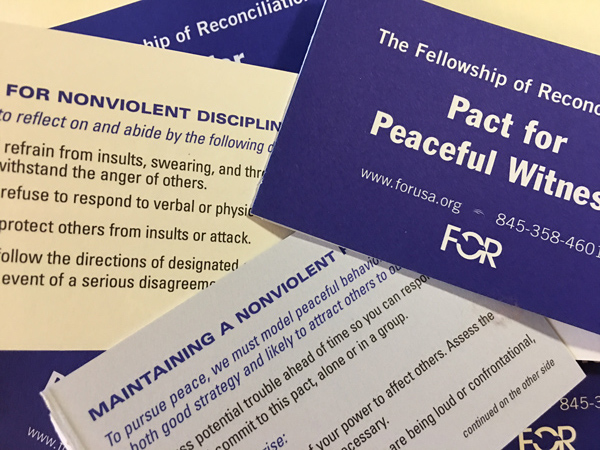 Pact for Peaceful Witness & Religious Peace Fellowships:
Pacto para los Testigos de La No-Violencia (Spanish Translation):
---
Coming to Ferguson: Resources for building a nonviolent movement
On August 9, 2014, after Mike Brown, Jr. was shot and killed by a police officer in Ferguson, Missouri, an uprising began. In the weeks and months following his death, many people have traveled to Ferguson and other communities that have experienced similar uprisings with good intentions yet have lacked the resources, knowledge, and connections to contribute positively to those communities.
The "Coming to Ferguson: Building a Nonviolent Movement" curriculum, released at the occasion of the one-year commemoration of Mike Brown's murder, was designed to help people to think intentionally and intensively about whether or not to "show up" in Ferguson and St. Louis — and if they did, how to understand their role, preconceptions, and biases, and how to provide solidarity that was helpful and not hurtful. This curriculum is applicable and essential when preparing to offer support anywhere there is a burgeoning movement for racial justice, police accountability, and social transformation.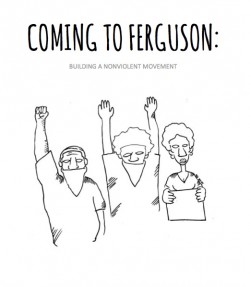 Developed by the Deep Abiding Love Project, with the support of FOR. Feel free to print, copy, or share these documents with others!
Coming to Ferguson (PDF, 2.7MB):
Download
Additional resources and activities (PDF, 2.5MB):
Download
View the documents formatted for the screen:
View Now
---
The People's Campaign for Nonviolence: The Way of Martin Luther King, Jr.
As a member of our advisory board and a signer of the Statement of Purpose of the Fellowship of Reconciliation, Rev. Dr. Martin Luther King, Jr. gave his name only to two membership organizations during his lifetime: the Southern Christian Leadership Conference and the Fellowship of Reconciliation. At FOR, we hold his legacy dear, studying and practicing his teachings and example in nonviolence. Thank you to our friends at the Martin Luther King, Jr. Center for Nonviolent Social Change for hosting these key tenets of his work and beliefs.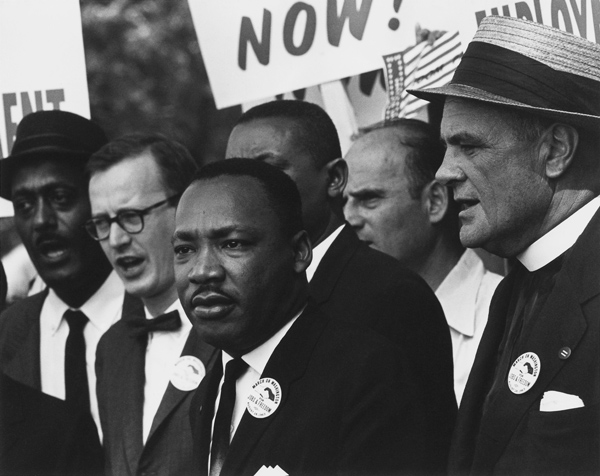 Six Principles of Nonviolence
Fundamental tenets of Dr. King's philosophy of nonviolence were outlined in his first book, Stride Toward Freedom (excerpts of which were published in advance in the September 1958 issue of FOR's magazine, Fellowship). The six principles include:
Six Steps of Nonviolent Social Change
The Six Steps for Nonviolent Social Change are based on Dr. King's nonviolent campaigns and teachings that emphasize love in action. Dr. King's philosophy of nonviolence, as reviewed in the Six Principles of Nonviolence, guide these steps for social and interpersonal change.
*Adapted from Dr. Martin Luther King, Jr.'s "Letter from a Birmingham Jail"
Download
---
In 1957, less than a year after the conclusion of the successful Montgomery Bus Boycott, FOR published its first-ever comic book. Conceived by Alfred Hassler, the Fellowship's creative executive secretary, the comic book was endorsed by Rev. Dr. King and 250,000 copies were distributed, primarily within black communities, to support and strengthen the Southern Freedom Movement.
Rachel Maddow said it best when she profiled our historic comic book in conjunction with Rep. John Lewis' first MARCH Book: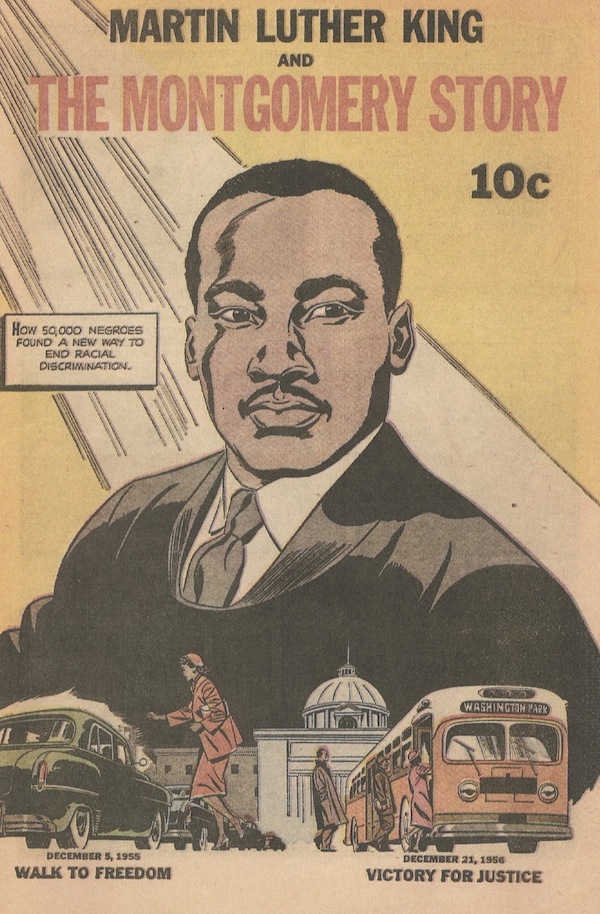 "...what was really, really, really important about this book is that it did not just explain or re-tell that story of that [Montgomery bus boycott] campaign. This comic book was also, essentially, a step-by-step guidebook for how to replicate it. How to use what it called "the Montgomery method," with pages of practical advice of how to choose your battles, how to educate yourself, how to practice facing even violent opposition without ever hitting back. How to see the person attacking you as a human, and how to try to inspire that person to see you the same way, even in middle of confrontation. It's profound stuff. This was a comic book that inspired and helped to organize a revolution."
The last three pages of the comic book offer clearly delineated steps for "How the Montgomery Method Works" that are timeless principles of nonviolence.
Buy the Comic